GTS Engineering USA Incorporated (GTS) enables entrepreneurs and companies from start-ups to Fortune 500s produce, organize, and maintain engineering documentation without the expense of establishing or expanding their own engineering staff. With a strong focus on providing excellent engineering services, we understand the nuance of the trade. As a result, we have equipped ourselves with the skills to meet the need for document engineering for your enterprise.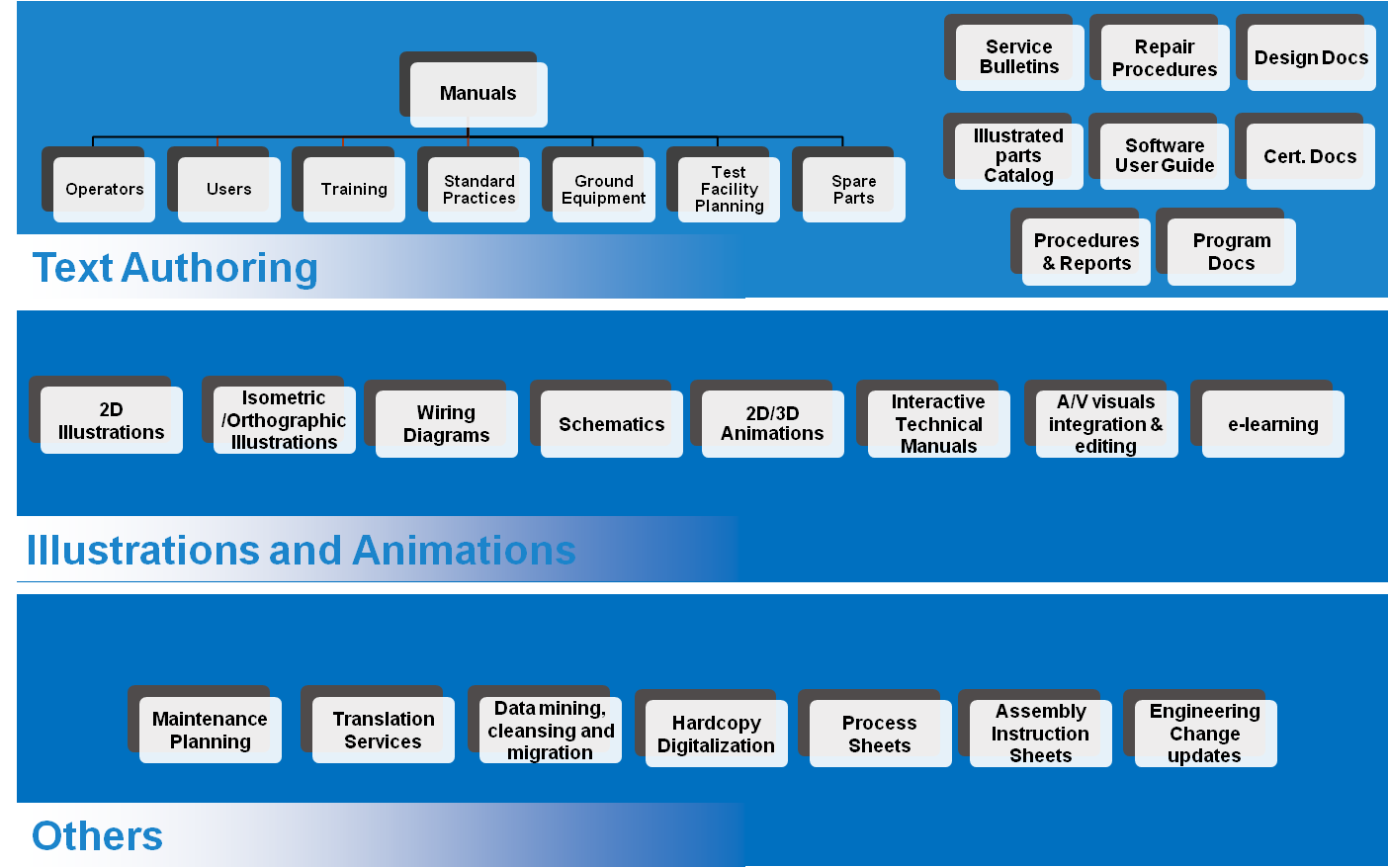 We realize that appropriate documentation is important from many perspectives:
Knowledge sharing and preservation
Record keeping and information organization & maintenance
Simplification of complex models and theories via illustrations
Analysis and statistics generation
Aiding users, vendors, stakeholders, sponsors and other parties
Product/service marketing and disseminating the relevant information
Understanding these goals, our document engineers serve our clients with an extensive array of services listed below:
Text Authoring

Our text authoring specialists possess sound knowledge of engineering, design, and manufacturing and are adept at transforming it into technical or business language using the appropriate writing styles. Our text authoring service spawns across a wide range of written creations, including manuals, catalogs, reports, process documents, program documentation, certificate documentation, or design documentation. Specifically, we specialize in creation and revision of:
Maintenance, Operators/User and Training Manuals
Standard Practices Manual
Shop Floor Manuals & Installation Manuals
Spare Parts Manual
Illustrated Tools & Equipment Manuals
Ground Equipment operating Manuals
Test facility planning manual
Service Bulletins
Illustrated Parts Catalog
e parts Catalog
Procedures and Reports
Repair Procedures development
Software (tools) user guide
Program Documentation
Design Documentation
Certification Documentation
Illustrations and Animations

Often, textual content and design artefacts are best represented in the visual and audio-visual formats. We employ a talented pool of design experts and animators who help you with the creation, revision, organization and maintenance of the designs, schematics, animations and interactive manuals. Our experts specialize in creation of two-dimensional, orthographic, and isometric illustrations as well as wiring diagrams and the electrical and mechanical schematics.
We are also capable of creating 2D and 3D animations to make your illustrations livelier. In addition, we provide expert services in the field of e-learning and interactive instructional design, creation of interactive electronic technical manuals utilizing our experience. Our professionals also offer top of the line audio and video integration and editing services to help you deliver the desired audio-visual experience to your target user group.
Miscellaneous Document Engineering Services

We provide a comprehensive array of knowledge management and document engineering services. In addition to the text authoring and illustration/animation related services, we help you with creation of maintenance planning documents, process sheets and assembly instruction sheets. We also take care of engineering change updates in your projects or engineering operations.
For your business's readiness for a cross-lingual environment, we provide translation services encompassing a range of global languages. In order to ensure meaningfulness, organization, and maintenance of your data, we provide data mining, cleansing and migration services in addition to transformation of printed information into its digital counterparts.